Virginia Capitol Connections Quarterly Magazine
Current Issue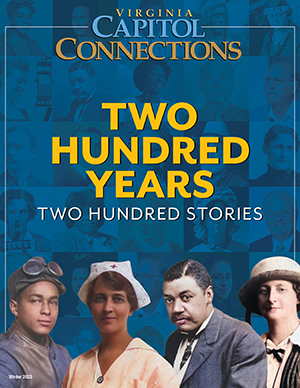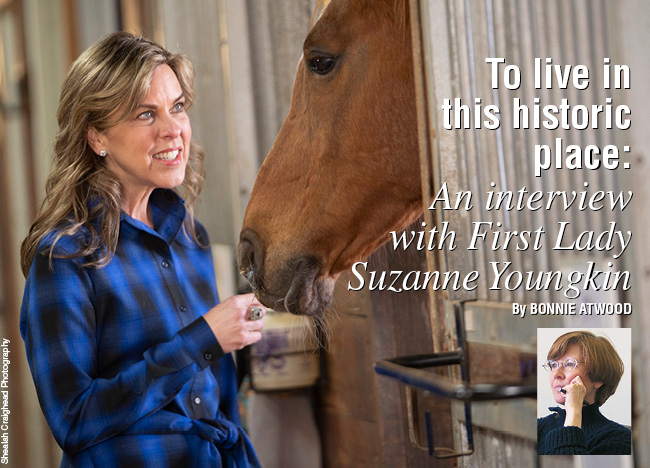 Meeting First Lady Suzanne Youngkin reminds one of popping a bottle of champagne: You are acutely and pleasantly aware of a burst of bubbles.
Delightfully personable and relaxed, she sat on a couch in the "Ladies Parlor" of the Executive Mansion, wearing a bright red blouse and matching shoes, and not deterred by a pink cast on her arm resulting from a pickleball mishap. She talked about her four children and four dogs.
Born in Little Rock, Mrs. Youngkin was the daughter of a dermatologist. Her father served as a medic in Vietnam in the late Sixties. The family relocated to Texas, where she loved animals, especially horses, and originally set her sights on being a veterinarian, but later switched to communications. Her first job was at a big firm in Houston, where, through a mutual friend, she met the athletic and bright Glenn Youngkin. Too tall to realize his ambition as an astronaut, Youngkin entered the field of science. At that time, politics was one of the farthest things from the young couple's minds.
In the early Nineties, as the romance turned into thoughts of marriage, Youngkin's career took him to Harvard Business School in Boston, and the soon-to-be Mrs. Youngkin got an apartment nearby with a French student, found the old-fashioned way: "Roomate Wanted" was torn off a posted flyer, just the way people used to find guitar teachers.
The future Mrs. Youngkin got a job at the Massachusetts Division of Energy Resources.
So, when did politics enter the scenario? It was 2020. At that time the family lived in Northern Virginia. Their first two children were born at Arlington Hospital. Youngkin worked for a private equity firm, and they spent a few years overseas.
How does she feel now that she lives in Virginia's most famous residence?
"It's a really humbling experience," said Mrs. Youngkin. "I do pinch myself" to live in this historic place, at this historic moment. I pray each evening that I bring empathy to this job."
She has nothing but praise for her "team," and they meet not only in the mansion, but in her office in the Patrick Henry Building.
"I'm living politics 100 percent for my husband," she said.
One of her greatest contributions is her desire to "shine a light on the good and the great that already exists in Virginia." To that end, she gives the "Spirit of Virginia" Award to six deserving winners every year. Candidates, which can be individuals or nonprofits, are nominated by cabinet secretaries and department secretaries.
Bonnie Atwood is an editor for Virginia Capitol Connections Magazine.